The year is 1995.  By day I was faking my way through the lyrics of "Smells Like Teen Spirit," and by night I was dreaming of Jordan Catalano.  I stood in front of my dad's closet and gaped in awe at the glory before me. The ultimate stash of 90's over-sized flannel plaid button-ups.  He, of course, wore them literally and responsibly, tucked into various slacks and dad-jeans for his real job.  But us teen-angsters?  We wore them defiantly, extraneously even.  Cinched around our waists or cascading over our JNCOs, they bore no resemblance to utility.  It was purely the fashion aesthetic of grunge, and it was glorious.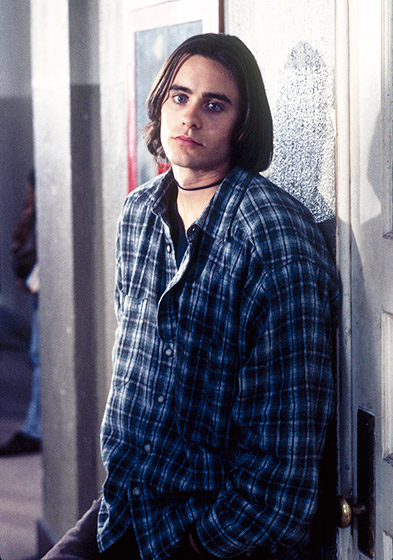 That was it for me.  In my most formative years, plaid crept into my life and cemented itself as a permanent closet fixture.  And though the grunge went out, the pattern never really did, cropping up over the years in jackets, skirts, and accessories.  One needs to merely take a passing glance at the blanket scarf collection in my closet to know that I am obsessed with plaid.
Plaid is versatile in its formality.  Most people relinquish the plaid shirts to the "weekend errand" section of their closets, but I absolutely love to make plaid a little more formal.  This Christmas Eve, I paired my favorite Buffalo plaid shirt with a super sparkly tulle skirt and heels, and the juxtaposition was to die for.
I also like to dress up a plaid shirt for work.  This week I paired a sheer plaid top [old, similar here and here] with a grey pencil skirt and booties [sold out, similar here] for a perfectly office-appropriate look.
Plaid is easy to mix with other patterns  [see original post on pattern-mixing here].  Let the size of the pattern be your mixing guide.  If your plaid pattern is wide, like a windowpane or glen plaid, then mix with a smaller pattern, like tightly-spaced stripes.  If your plaid pattern is smaller, like gingham or tattersall, you can get away with a bigger, bolder pattern.  Check out this or this if you want to know more about the different types of plaids.
A plaid accessory adds the perfect pop of interest to an outfit.  Think about a plaid blanket scarf on top of a neutral grey/black palette.  Or plaid tights under a solid dress.  Or a plaid peacoat over a monochromatic ensemble.  That spot of pattern polishes off an outfit, adding just a hint of intrigue.
I am so obsessed with plaid, check out all the plaid love I've posted on the blog!
What plaid stuff is cute and on sale right now?